What You Get
Nick Elam brings a wealth of experience in leadership, innovation, education, mathematics, and sports to serve the needs of you, your child, your students, or your business.
Nick Elam has shared the story of the Elam Ending in over 300 outlets, through presentations and interviews for conferences, guest lectures, written articles, podcasts, and radio/TV programs. Now, Nick speaks in schools, universities, businesses, keynote addresses, and small-group/one-on-one settings, to share the lessons he has learned in following his dream…and how these lessons can help you follow your dream.
The Art & Science of Pursuing Your Passions is a presentation grounded in basketball's Elam Ending, and includes the exciting sights and sounds of basketball highlights. But Nick's message connects with students and ambitious people of all ages – regardless of whether they are basketball fans. Nick conveys his message through compelling stories, humor, and the wisdom and humility that can only come from firsthand experience from seeing one's dream become reality.
Through The Art & Science of Pursuing Your Passions, you will learn about Nick's ten-year journey to finally see the Elam Ending come to life for the first time, and the following years that have taken the Elam Ending to the highest levels of the sport. You will learn how Nick has grown in some way from every part of his varied background – from delivering pizza, driving a moving truck, and working on the Cincinnati Reds grounds crew, to serving as a high school math teacher (a leader of students), then a school principal (a leader of students and teachers), to a professor of leadership (a leader of students, teachers, and leaders).
Most importantly, The Art & Science of Pursuing Your Passions will leave you with key takeaways to help you follow your dream:
Recommitting yourself to academic success and/or professional development – and understanding why and how your teachers, principals, and supervisors want to help you achieve this.

Being relentlessly positive – how documenting the good fortune in your life on a daily basis can bring inspirational and practical benefits.

Identifying your smart dream and your crazy dream – and finding creative ways to pursue both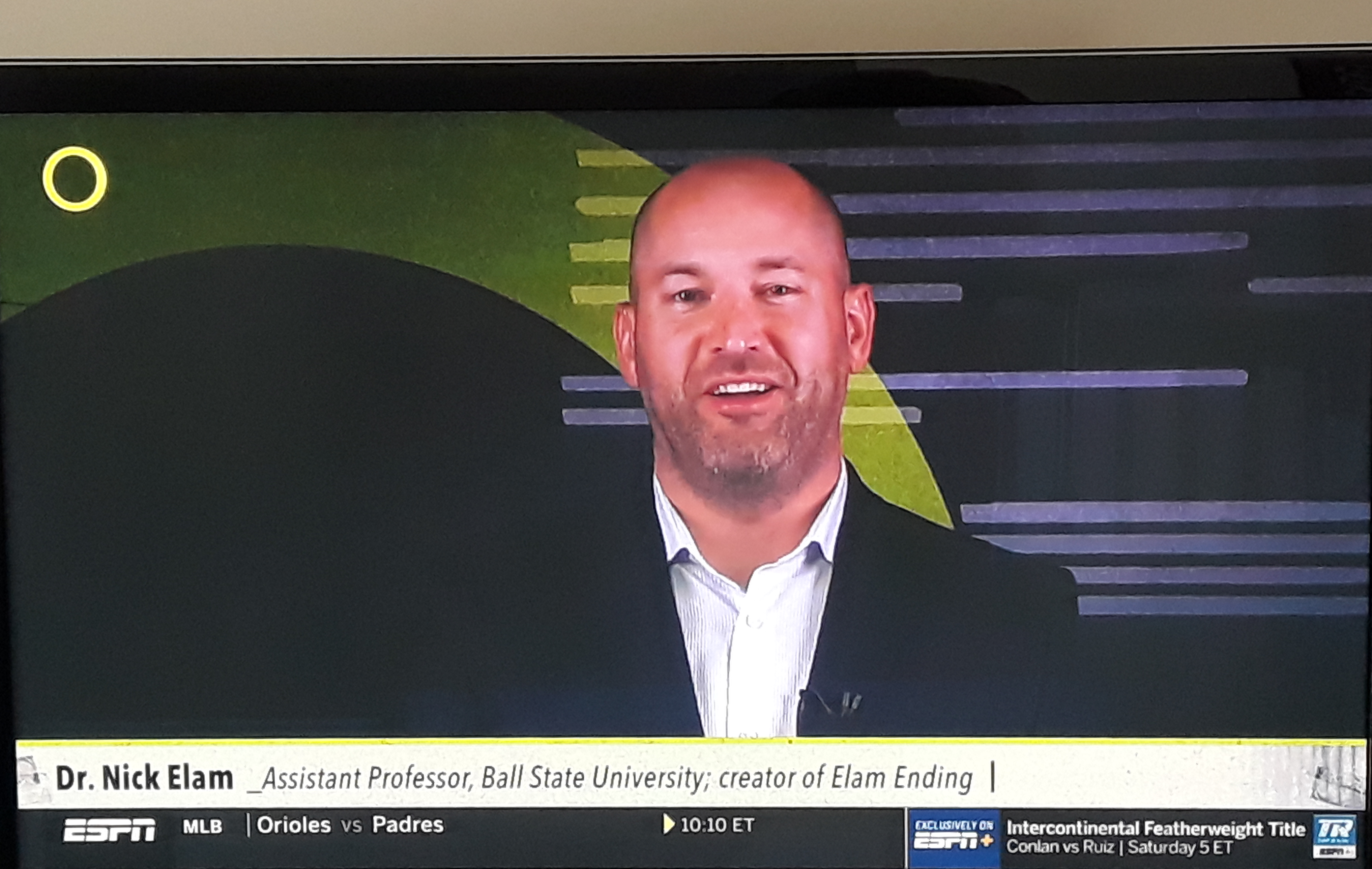 "Nick's talk about the evolution and launch of the Elam Ending is an inspiring tale of passion, perseverance, and an inspiration to anyone who's ever had a big idea. Nick's tenacity to pursue something that would seem impossible to most serves as motivation to anyone of any age to chase their dream."
"Dr. Elam presented at our Global Youth Basketball Summit in August 2020. Dr. Elam was incredibly well prepared…Dr. Elam was prompt in communication, first class in his delivery, and as top shelf a presenter as we have worked with. Highly recommend."
"Nick Elam was a win for speaking to our graduate sport analytics class in the number one sport management graduate program at Ohio University. He tailored his talk, connected with the audience and shared a compelling story of innovation that still resonates."
"Nick Elam gave a terrific keynote address at the Midwest Sports Analytics Meeting. My attendees really enjoyed learning about the Elam Ending. I look forward to hearing more about Nick's work and his Elam Ending gaining significantly more adoption throughout the basketball world!"
Chloe, high school student
"I loved seeing your tenacity and drive. You were super inspiring!"
Jonny, high school student
"Dr. Elam's story is very inspiring in that anyone from anywhere at any time can come up with an idea and see it come to fruition in such a big way!"
Zack, high school student
"Thank you for sharing the challenges you faced and your pursuit of something you are passionate about. There's a lesson we can all learn from that."
Colin, high school student
"Dr. Elam will probably be credited with the start of the new age of sports!"
Through the development of the Elam Ending for basketball, Nick Elam has done what few thought was possible – making a great sport even greater, in a way that appeals to both diehard fans and casual fans, analytics embracers and old-school thinkers. Nick will bring the same innovative, in-touch thinking to your school, business, or sports entity, for whatever challenge you are trying to tackle.
Nick brings a wealth of experience to help you or your child succeed in math, on an in-person or remote basis. Nick has 7+ years as a classroom math teacher/instructor at the high school and college level, 11+ years as a school leader and professor, and has tutored hundreds of students on a one-on-one basis. Nick has taught and tutored calculus, business calculus, trigonometry, algebra, statistics, and geometry. Nick has an added specialty in standardized math test prep (particularly ACT, SAT, PSAT, and GRE), as evidenced by his own impressive results:
· National Merit Scholarship winner (based in part on results of PSAT)
· 770 (out of 800) on Math SAT
· 35 (out of 36) on Math ACT
· Educational Testing Service Recognition of Excellence, Praxis II Mathematics
· 800 (out of 800) on Quantitative section of GRE General
· 97th percentile on Miller Analogies Test
· Passed Mensa admissions test
As powerful as the lessons from The Art & Science of Pursuing Your Passions are in a large-group presentation, these lessons can be even more powerful on a one-on-one, ongoing basis. Nick offers inspirational and practical guidance to help you or your child succeed.
"I worked with Nick to study and prepare for the GRE. We met twice a week, which really helped to prepare me. I earned a high score on the GRE and was admitted to grad school thanks to Nick's help!"
"As soon as the pandemic hit, our son fell behind in geometry. We were lucky to connect with Nick – from a thousand miles away! Nick was able to provide the support our son needed to catch up and stay on track"
"Nick helped me better understand the math concepts that I was learning in school. He made me realize that I understood the concepts, but I was not applying them properly. I was able to gain confidence and significantly increase my math scores!"
"Nick is wonderful to work with. He is very accommodating, knowledgeable, and worked very well with our daughter. Her math teacher was not connecting with her, but Nick did. She went from getting Ds on tests to getting a B on her final exam after just a few sessions."
Subscribe for the latest news from Elam Ending & Dr. Nick Elam